Riverport Landings – An Intergenerational Community Making Impact
Kentucky Housing Corporation (KHC) takes great pride in partnering with organizations throughout the Commonwealth to address the diverse housing needs of our citizens. Many of the projects KHC helps to fund target housing resources to certain populations with specific housing needs – multifamily housing affordable for working families, supportive housing for persons with disabilities, permanent housing to move people from homelessness, energy efficiency and weatherization to make homes healthier and more affordable, repairs and rehabilitation to improve safety for homeowners, new construction to help new homebuyers begin to build equity, and so many more.
Occasionally, KHC has the opportunity to partner on innovative projects designed to impact multiple target populations at the same time. Riverport Landings – An Intergenerational Community in Louisville represents such a project.
The development integrates a broad spectrum of residents in three different types of affordable housing developments merged with community services, neighborhood retail, and a community park in an area of Louisville in dire need of revitalization.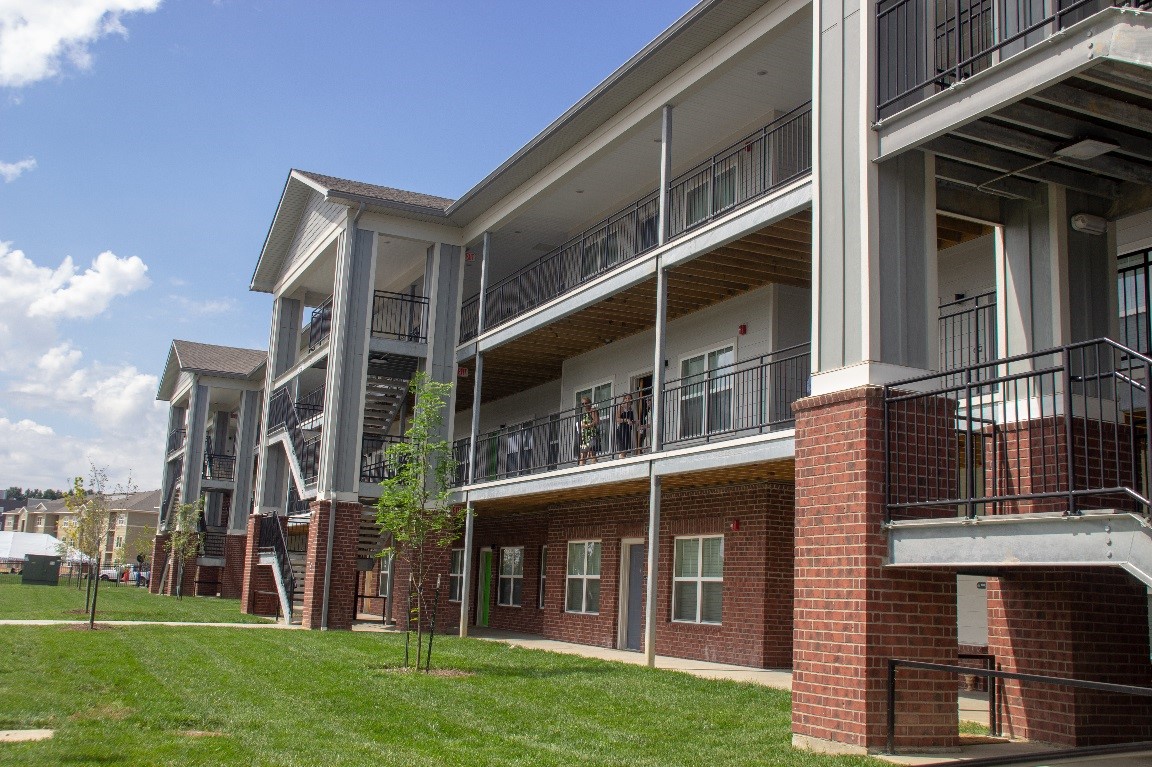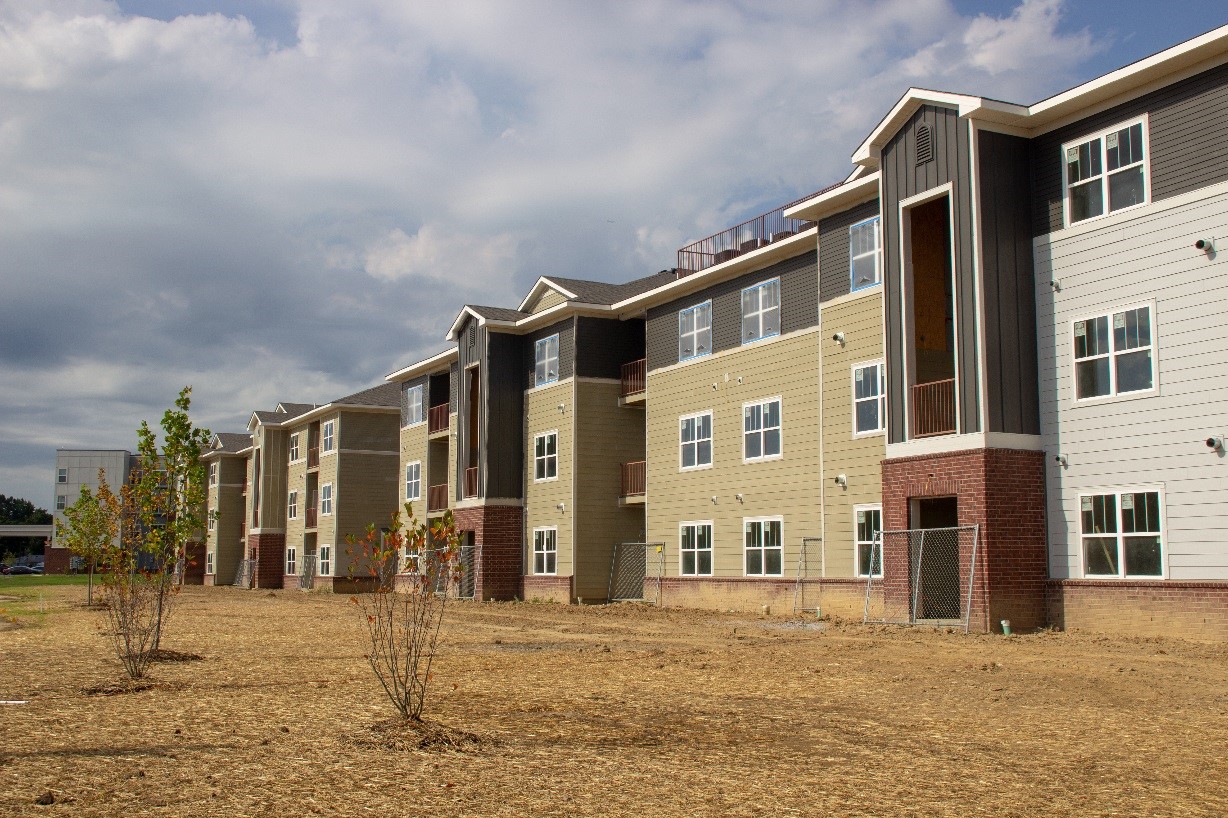 Marian Development in collaboration with LDG Development, Family Scholar House, and other community partners created Riverport Landings using a housing model that cuts across traditional housing lines, creates deeper connections among residents, and supports an entire community. This development is the perfect solution to bridge the growing generation gap while satisfying shared needs of seniors, families, and youth. This project truly reflects an innovative response that solves not just one, but a number of community needs.
Innovative Response to Need
Through the creation of a community revitalization plan, the intergenerational housing model was designed to help revive the Cane Run Road neighborhood and support the creation of new affordable housing units in a qualified census tract, an area that has 50 percent of households with incomes below 60 percent of the area median gross income or that has a poverty rate of 25 percent or more. Situated on a 36-acre site, the combined development created 412 new affordable housing units in an underserved neighborhood in southwest Louisville. Although the vast size of the project alone is quite impressive, the benefits this type of comprehensive living community provides to its residents is inspiring and refreshing.
The first of three buildings built by Marian Development was Riverport Senior Living, which serves adults ages 55 or older. Occupancy of all 108 units is restricted to households with incomes no higher than 60 percent of the HUD area median income (AMI). Some units funded through the HOME Investment Partnership Program are further restricted to incomes no higher than 50 percent of AMI.
In the next phase, Riverport Family Apartments were built to serve families with children, individuals, and the general population. Occupancy of these 240 units is restricted to households with incomes no higher than 60 percent of AMI with some HOME units further restricted to incomes no higher than 50 percent of AMI.
Finally, the 64-unit Riverport Family Scholar House was developed. Like other Scholar House communities, Riverport Family Scholar serves single-parent families pursuing a degree from an accredited college or university. What is unique about Riverport Family Scholar, however, is that it also targets youth aging out of foster care to give them an opportunity for post-secondary education while living in stable housing. All 64 units are restricted to households with incomes no higher than 60 percent of AMI. Again, low-income HOME units are further restricted to incomes no higher than 50 percent of AMI. Additionally, all 64 units have Section 8 rental assistance provided by the Louisville Metro Housing Authority in the form of project-based Housing Choice Vouchers.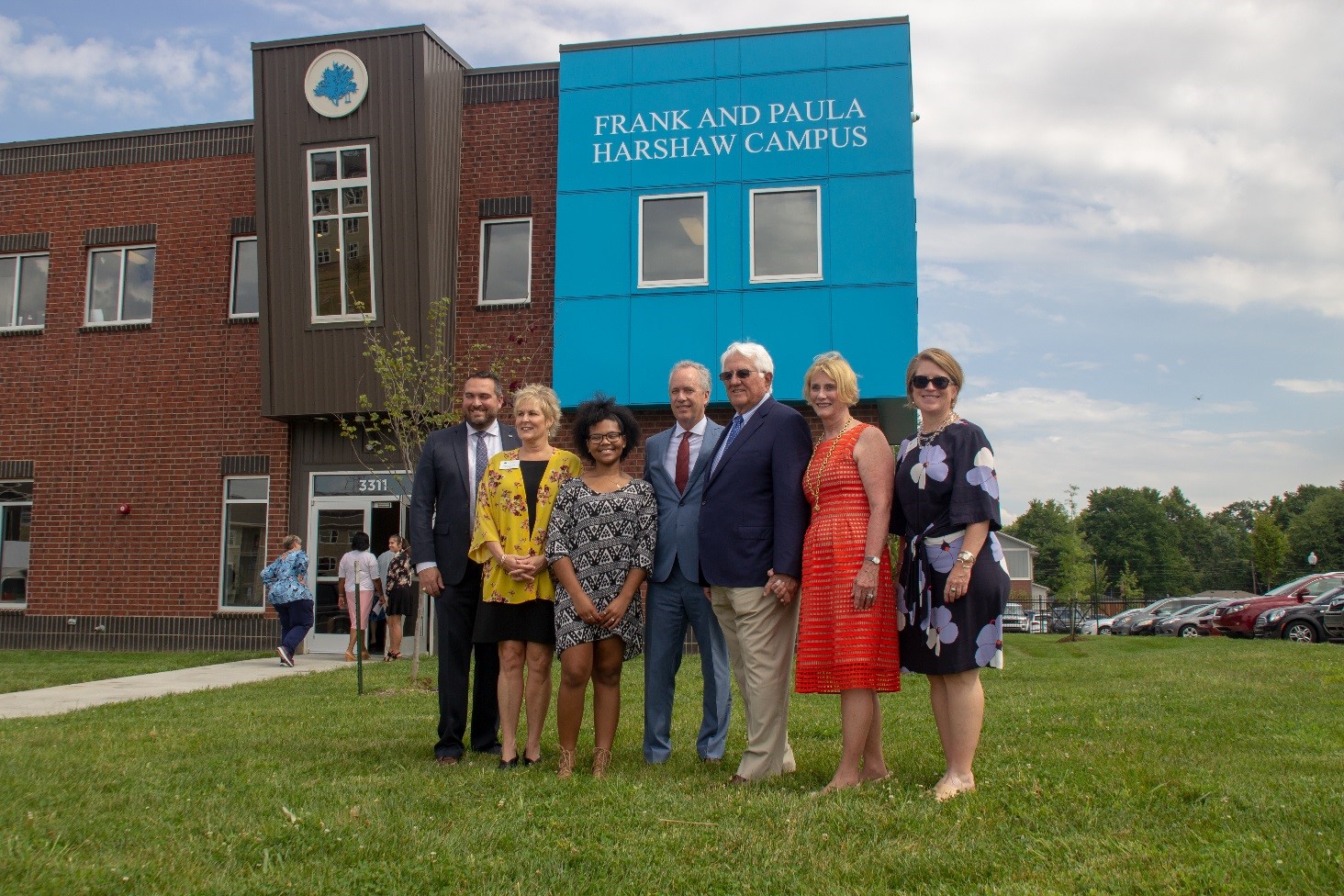 The Scholar House model provides four years of housing assistance for individuals with low incomes working to obtain a college degree and move beyond public assistance to self-sufficiency. Because many Scholar House participants are single parents, the program design includes child care to eliminate that substantial barrier to attending college. The program also makes health care and numerous other services readily accessible to help these individuals and families succeed. This Riverport Scholar House is extending these services in a comprehensive way for the first time to target youth aging out of foster care. Many of these young people are not yet ready to sustain housing independently or do not have access to post-secondary education opportunities.
In addition to housing, the Riverport Scholar House campus includes an educational services center that serves not only Scholar House participants, but also neighbors and residents from the other components of the development. The educational services center provides space for program staff to offer counseling, academic coaching, and workshops for participants and community members. The facility also includes a technology center, art studio, children's creative play space, tutoring rooms, community meeting rooms, a clothes closet, and a food pantry.
To complement the three living developments at Riverport Landings, the community also features a 2.5- acre park, providing residents a convenient venue where they can enjoy green space, remain active, and pursue a healthy lifestyle. The development provides 18,000 square feet of retail space and the 16,000-square-foot community service facility where social services can co-locate help to alleviate transportation concerns.
According to Generations United, an "intergenerational community":
provides adequately for the safety, health, education, and basic necessities of life for people of all ages;
promotes programs, policies, and practices that increase cooperation, interaction, and exchange between people of different generations; and
enables all ages to share their talents and resources and support each other in relationships that benefit both individuals and their community.
An intergenerational community is not just one where housing units bring multiple generations together. It is a nurturing, supportive environment where individuals of all ages are an integral and valued part of the setting. An intergenerational community builds on the positive resources that each generation has to offer those around them. It advances policies and practices that both acknowledge and promote intergenerational interdependence[i].
Intended Results
The most important aspect of the Riverport Intergenerational Community is that it has been designed to produce very positive outcomes from community interaction. The resources that different generations or age groups can provide to each other are invaluable. For instance, young adults aging out of foster care and seniors can be valuable assets to each other. Instead of seeing foster youth simply as victims of circumstance and older adults as stricken by the aging process, both groups are seen as agents of change in the world around them. Emancipated foster youth need stable environments. Families and older adults living in the community will assist these individuals by providing a sense of safety and security and by serving as a constant in a young adult's life. Alternatively, seniors who rent in this community not only gain a sense of purpose from their help in mentoring both former foster youth and parenting households, they establish meaningful relationships that happen because of intentional programming from community staff and contributing to an overall healthy and positive quality of life[ii].
More retirees are resisting the "Shady Acres" model of senior housing restricted by age and where separation from children and young adults is established through a gated community. Many older adults would prefer the ability to age in place and live in a dynamic environment where they can have access to services, retail establishments, events for entertainment and learning, and where younger people bring a sense of vibrancy. Locating housing for older adults within an intergenerational community meets these goals.
Cost Versus Benefits
KHC has made it a priority to deploy resources we administer to revolutionary projects like Riverport Landings. We understand that these types of investments produce extremely high value for the community by complementing needed affordable housing with unique access to higher education, child development, health and wellness supports, and community engagement to definitively transform the lives of low- income families and individuals. Riverport Landings developers worked with KHC staff to identify the right mix of financing options from our existing programs and successfully followed the standard competitive application process to obtain the funds necessary to bring their vision to full realization.
The benefits of this project far outweigh the costs. Older adults who are able to age in place not only enjoy a higher quality of life, but they also rely less on public assistance. Those who do not have access to independent living opportunities often must move into nursing home facilities that come at an extremely high cost to the residents as well place a burden on public resources, such as Medicaid. Similarly, providing a nurturing living environment for former foster youth will help save public dollars as they reach self-sufficiency. Data shows that about one-third of emancipated foster youth experience homelessness at some point. Some of these young people are at risk to become chronically homeless – a situation that takes an enormous toll on public resources such as health care services, emergency response systems, corrections, and other public-sector enterprises that serve people in crisis. Enabling these young adults to earn a college degree will put them on a path to successful careers. Instead of becoming heavy users of public assistance programs, they will be able to obtain gainful employment and contribute to their community.
The Riverport Landings Intergenerational Community is now a tremendous asset to southwest Louisville. It provides stable housing to seniors, families and youth, helps spur commercial development in the neighborhood, and its community centers and park are an excellent resource for those living in the community and surrounding areas.
In August during the Kentucky Affordable Housing Conference, three partners who collaborated on this project were honored with a Housing Innovation Award for their innovative approach to create in intergenerational development where children, families, and seniors could connect and have a sense of community.
The partners honored were LDG Development for their innovative response to a need to revitalize a declining neighborhood; Marian Development for creating housing to meet the needs of diverse populations; and Family Scholar House for an education component that serves youth aging out of foster care, so they can have opportunities for a post-secondary education while living in stable housing. Congratulations, again, to these partners for a remarkable set of collaborative, model projects in Riverport Landings.
What resources does your community have to help youth aging out of foster care?
Do you know if they have learned skills to be independent, self-sufficient, and successful?
How can seniors in your community connect with others and live more vibrantly?
---
Resources
[i] Kaplan, M., Mariano, S., & Hoffman, J. (2017). Intergenerational Pathways to a Sustainable Society. Springer International Publishing.
[ii] Students, C. P. (2016). Hope through Housing: A Model for Addressing Pressing Community Challenges. UNC School of Government.
---