Brittany Berry - Family Self-Sufficiency Program
​Kentucky Housing Corporation's (KHC) Family Self-Sufficiency Program (FSS) offers families in the Housing Choice Voucher (HCV) program the opportunity to achieve economic self-sufficiency by giving them the tools and means to pursue homeownership. At the core of FSS is an escrow savings account. Essentially, like all HCV participants, those in FSS pay their share of the rent, and the rental subsidy covers the rest. If their rent is $500, for example, and their share is $100, then the subsidy will cover $400. As FSS participants' earnings increase, their share of the rent increases, as is the case for anyone in HCV. Where FSS differs, though, is in the subsidy share: it does not decrease in kind.

Instead, the excess money goes into a savings account.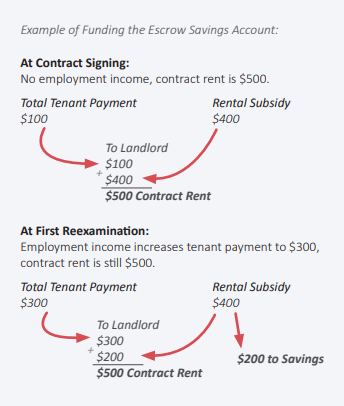 If their share increases to $300, for instance, then $200 of the subsidy will cover the remainder of the rent and $200 will go into the escrow account. Families can draw from the account during the program to help them meet their goals. At the end, they receive the balance of the account tax-free.
But the subsidy is not free. Families earn it. Participation requires a personal commitment to set and pursue goals—such as increasing education, gaining employment skills, career advancement, financial education, establishing and maintaining savings, credit repair, homeownership, and more—that will lead to self-sufficiency. In exchange, participants receive supportive services from KHC and the coveted escrow savings account.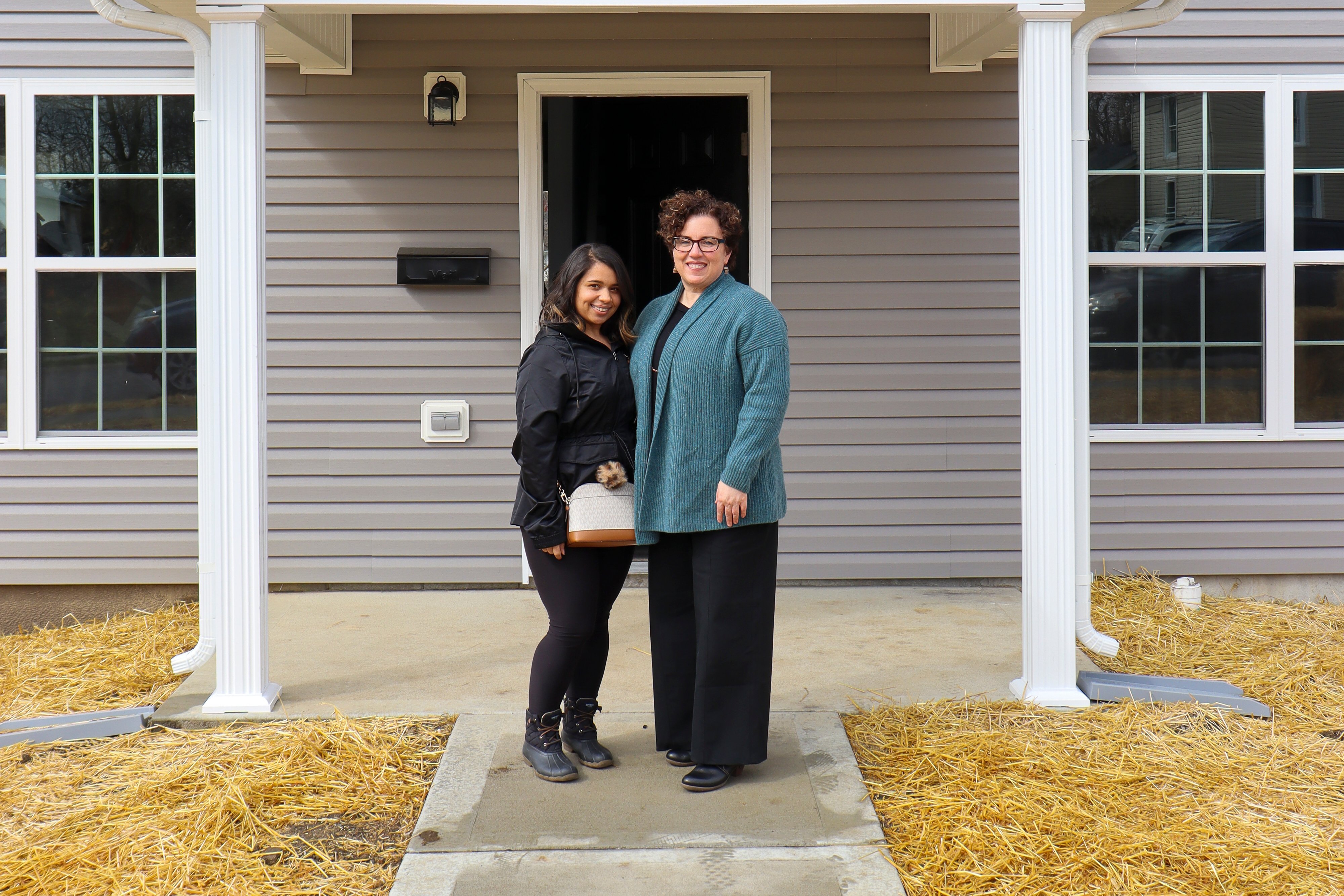 Brittany Berry is a recent FSS graduate. Because of the program, she was able to save enough money to buy a home through Habitat for Humanity. She used most of the money she saved while in FSS for the down payment and to buy new furniture; the rest, she said, will go into savings.
"It feels so good," she said. "I don't have any worries, no stress, it feels amazing."
Brittany's journey to homeownership went through KHC. She joined HCV in 2013. Before that, she said, she was unable to save money. The earnings she brought in from her jobs paid bills and take care of her five kids; very little, if anything, was left over at the end of each month.
"After I was able to get Section 8," she said, "I was able to do a lot more and save."
While in HCV, she received a letter from KHC about FSS. Intrigued, she called KHC and talked to a representative about the program. At the time, she wasn't eligible because she worked part-time and didn't make enough money. But she didn't give up. She found a new, full-time job that paid more, enough to make her eligible.
When Brittany joined FSS in 2017, she had one goal: become a homeowner. Each month, she paid her share of the rent, and, as part of the program, KHC contributed to an escrow savings account in her name. She worked diligently to bring up her credit score and maintain her finances, and she participated in homebuyer education at Community Ventures. Five years later, she had the skills, credit, and funds to buy a house.
Serendipitously, Habitat for Humanity of Madison and Clark Counties was accepting homeownership program applications at the same time that Brittany was graduating from FSS.
"It was the perfect timing," she said.
On February 25, 2023, she officially became a homeowner. Habitat hosted a small dedication in the driveway, where Brittany and her five kids were given the keys. Alicia Swanson, Brittany's contact at KHC, along with other KHC and Habitat staff and community members, were there to welcome Brittany and her five kids to their new home.
"Brittany is a perfect example of Family Self-Sufficiency's ability to support families in becoming homeowners," said Alicia. "She did all the work. She took full advantage of the resources at her disposal and applied what she learned to achieve her goals. We are honored to have been a part of her journey to homeownership."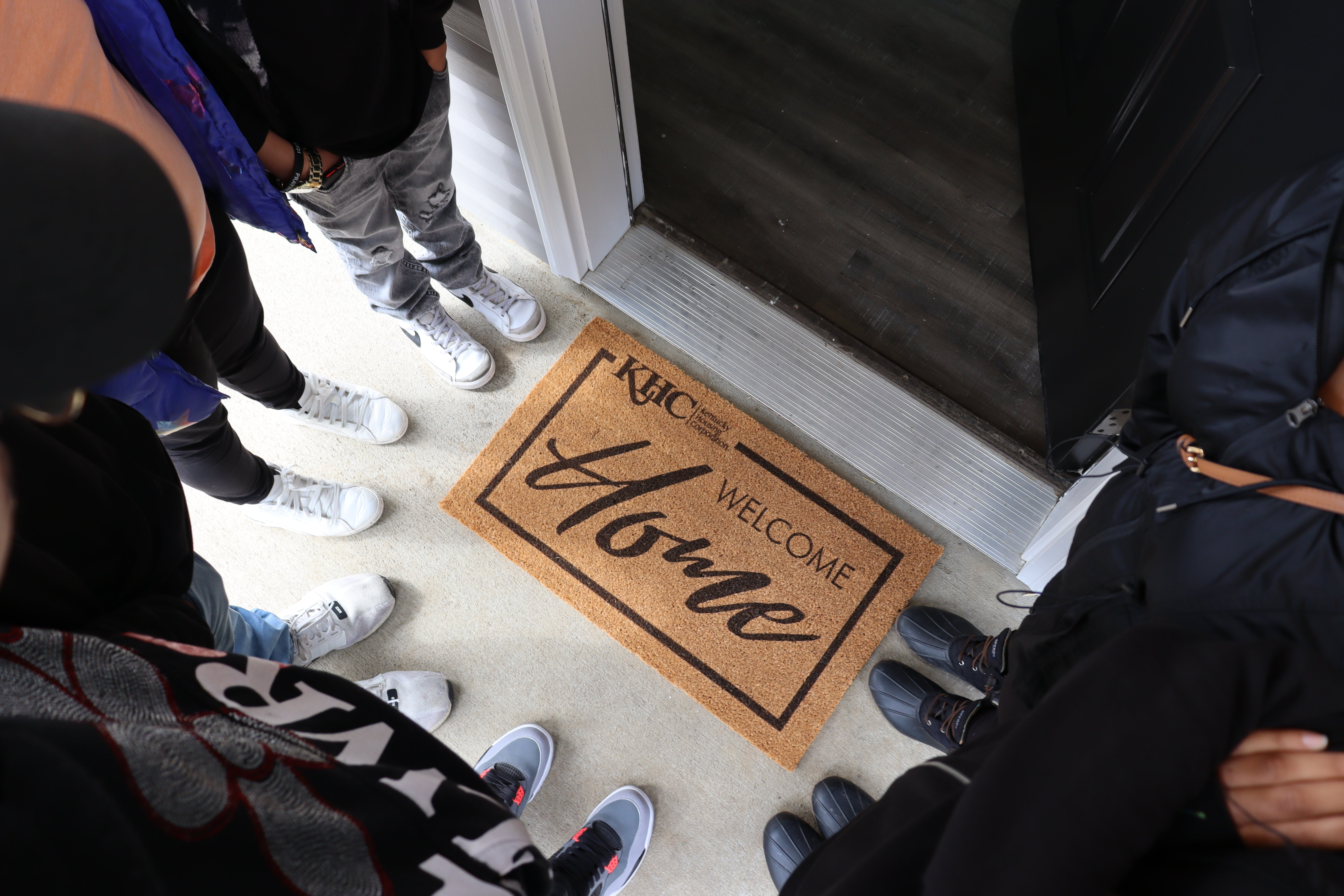 Brittany credits both HCV and FSS with getting her to where she is today. HCV put her in a position to build credit and start saving money, she said, and FSS gave her the opportunity to start building wealth for her family.
In the end, she wouldn't have been able to buy this brand-new 4-bedroom, 2-bathroom house without Habitat, too, whose homeownership program made it even more affordable than it otherwise would have been.
"I just appreciate everybody," she said. "Everybody that's been on my side, helping me through the process."
Photos by Steve Morrow
---