Pledge Hope and Share Your Joy This Holiday Season
"Earl" (named changed to protect his privacy) visited the soup kitchen on the day I volunteered to prep and serve food. Trays are counted to track the number of hungry folks who came through for a fresh, hot meal. Some come through the line for another serving or two, because they may not have another meal until the next day or longer, if they are just passing through town. Earl has been coming in routinely for a few months. He is friendly, full of conversation, and shares his smile and gratitude with everyone he meets. Earl reminded me that joy is found within, and that joy can be contagious when freely shared with others…no matter the current status of doing with or doing without. Joy can be shared within a few moments of going through a line.
In an accident sustained on the job, Earl has little memory of the incident other than he was struck in the head by equipment and his skull exposed his brain. When his coworkers worked through their own shock at Earl's condition—who was able to speak and was unaware of his own condition—later found himself recovering in a hospital for over 12 months and relearning how to walk, eat, and function in his new world…a world without many memories, still. Tragically, Earl lost his family, his job, his home, and a life he had been accustomed to, but he did not lose his self-worth, and with deep faith that he would make it, he said with a heartfelt smile, that he is getting by. He now has a new wife and is regaining his life. Circumstance had not stolen his joy.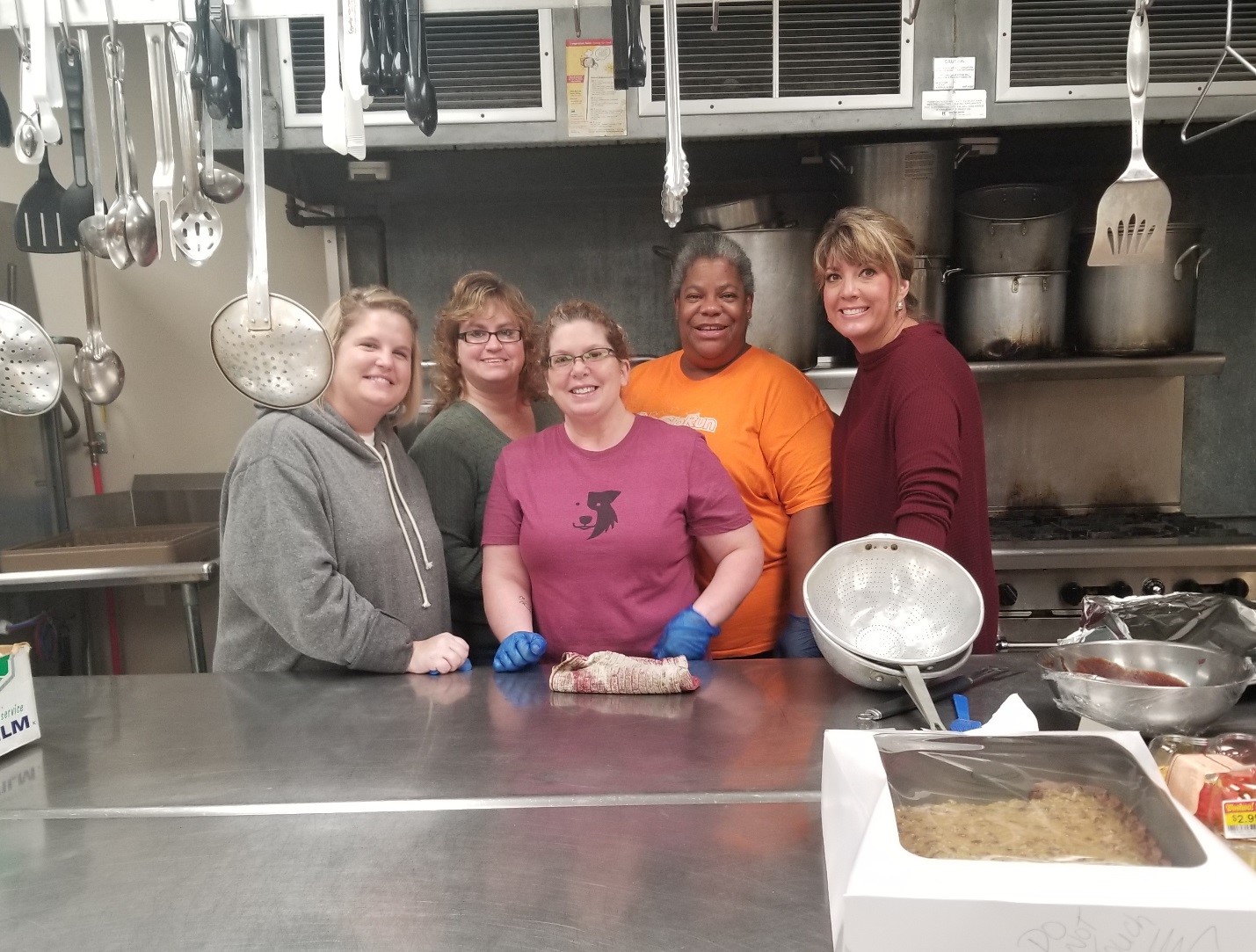 As others came through the line to receive their meal, many offered smiles, a warm greeting, and so much gratitude. Several expressed gratefulness for a meal that had been prepared by our group. They expressed gratefulness for fellowship and gratefulness to God. Some even complimented our cooking, though I must say I felt challenged to cook enough for nearly 100 folks who were anticipated to come in that day and seasoning large pots of food, so it would be tasty.
Volunteering brought joy to my heart, and the positive energy was contagious and permeated the room. If you haven't volunteered at the soup kitchen in your own community, sign up. The onsite help will guide you through what needs to be done and even provide guidance on measurement.
Food Insecurities and Consequences
Food insecurities affect an estimated 1 in 8 Americans were food insecure, equating to 40 million Americans including more than 12 million children, according to Hunger and Health reports in 2017 (1).
Did you know that 17 percent of Kentucky's population is food insecure, meaning they do have access to enough food for a healthy, active lifestyle, according to a report released by Kentucky AG News (2)?
Did you know that 9,654 children are currently in the foster care system in Kentucky, as reported by KVC in September 2018 (3)?
And, did you know that many children do not have access to food over the weekend and that their only meal may be the lunch provided by the school program during the week?
The consequences of hunger are much more than a growling stomach. Poor nutrition can result in a weaker immune system, lower IQ, shorter attention spans, and low academic achievement, or impeded a high-level of overall functioning.
Contact your local school community to learn if they have a food donation program to send food and snacks home with children to have over the weekends.
Pledging Hope and Sharing Your Joy
The holiday season is a time of giving and reflection. It is a time that reminds us of what really matters. It is a time of purpose. It is a time for kinship, fellowship, and family. It is a time for a renewed sense of hope that we can pledge to share with others that will carry us into the new year. Joy can be found in slivers of time and captured in memories that are everlasting. Sometimes happiness is a full belly.
This season, pledge hope to others by volunteering and being of service to others in your own community. Share your joy.
How can you pledge hope in your community?
What are ways you can share your joy?
Please comment below.
Author: Charla Jackson Peter serves as KHC's managing director of Communications and Marketing Services.
References
2.) Kentucky AG News
3.) KVC Kentucky
---