Habitat for Humanity Helping Bowling Green Rebuild After Tornado
In early December 2021, Chris and Kaylah and their two-year-old son were asleep in the house they rented in the historic Magnolia District of Bowling Green when they were awakened by a boom. "One of the loudest booms we have ever heard," Chris remembered. Hours earlier they had gone to bed despite tornado warnings issued for the area and much of southwest Kentucky.
"Kentucky has tornado warnings all the time," Chris said, recounting why he and Kaylah weren't worried. As they slept, though, the storm system produced tornadoes in Arkansas, Missouri, and Tennessee on a direct path toward Mayfield, Dawson Springs, Bowling Green, and other cities in Kentucky. Eventually, an estimated 61 tornadoes in eight states would be identified.
Kaylah's mom called to check on them, but they slept through it. Then came the boom. "I hopped up, and I go to the door, and I can't see anything out of the peephole," Chris said. "So I come back and see stuff from the attic on the floor." Still in a daze and in the dark, he started to collect the objects on the floor, preparing to put them back. "I looked up," he said, "and I can see the sky. I just stood there for a second. Am I seeing what I'm seeing?"
"I looked up and I can see the sky. I just stood there for a second. Am I seeing what I'm seeing?"
They would learn later when they were finally able to emerge safely into the street that the roof of their home had been torn off and thrown awkwardly onto the roof of a nearby house. They would also learn that the houses around them did not sustain the same degree of damage. The house next door to theirs, for example, was missing only a gutter.
This was the case across Bowling Green. Leveled houses and streets next to those that were spared. In a neighborhood on the city's west side, one dead-end street suffered catastrophic damage not seen blocks away. Twelve people lost their lives, seven of them in one home and five in the home next door. Down the street, a man buried in the rubble had to be dug out by his kids. Among other injuries, his pelvis was broken; he may never work again. For now, the family will be supported by the 23-year-old son, one of the 10 who was recently accepted into the Habitat for Humanity home program.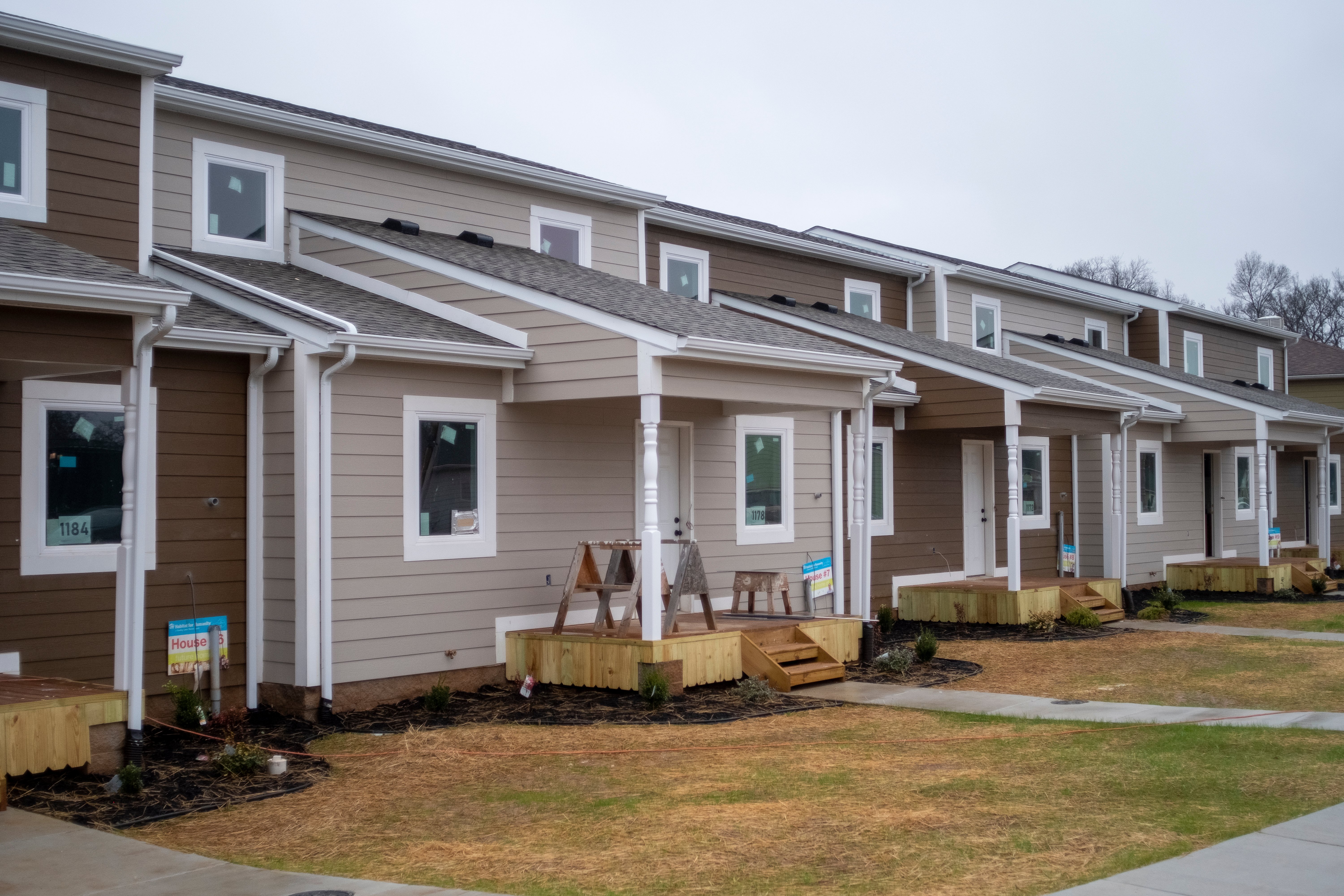 I am told these stories as I visit a building site in Bowling Green on Regis O'Connor Boulevard, a street named after the first and longtime executive director of the local Habitat for Humanity, where in the span of just five months a resourceful group made up of Habitat staff, volunteers, and homeowners-to-be have turned an empty plot of land next to a city drainage channel into 10 townhouses, six of which will be owned by families who lost their home in the tornado. The initial construction took place during what is called a "blitz build" when over one week in late July 2022 the frames were stood up, the roofs installed, and all 10 homes-in-progress protected from the elements. The project was funded in part by Kentucky Housing Corporation.
The townhouses are divided into two five-unit clusters with a green space between them. The end units have four bedrooms, and the interior units have three. The first floor of each is identical: a kitchen and living room on the right and a master bed and bath on the left. There is still some work to be done on the interiors, such as the installation of vinyl flooring, doors, and countertops, but the roof, siding, front and back porches, storage sheds, HVAC, plumbing, and other necessaries have all been completed. From the outside, the townhouses look move-in ready but for stickers on the newly installed windows.
Chris and Kaylah will not be living in a blitz-build home; instead, they will be moving into the middle unit of a three-townhouse cluster across the street that was finished before the blitz build began but whose floorplan is identical to the others. They gave me a tour, pointing out where they will set up a shared office—both have respective business ventures—and the debate they are currently having about which room will be theirs, which will be their son's. They lost almost everything in the tornado, but over the past year, through various donations, have been piecing together the furnishings of a home.
The rental house they had been living in for 11 years was rendered uninhabitable by the tornado. Beyond losing the roof, it sustained widespread structural damage. They could hear and see the walls cracking, they recalled, as they hurried to find shelter in the basement on the night of the storm. In the months that followed, they lived in a hotel paid for by the Red Cross. They used one bed as a kind of kitchen table, where they took their meals, and another to sleep. They were provided with one meal per day, and for many of the others, they ate takeout. They survived on money donated by friends and family in the days after the tornado, and they collected, through local donation drives for storm survivors, necessities they would get to use when they found a home. Boxes were stacked to the ceiling. Eventually they were moved to an apartment, a more permanent situation, paying more in rent than they could reasonably part with. In February, if everything goes to plan, they will move into their new Habitat townhouse, trading what has been a year of nomadic living for permanent affordable housing.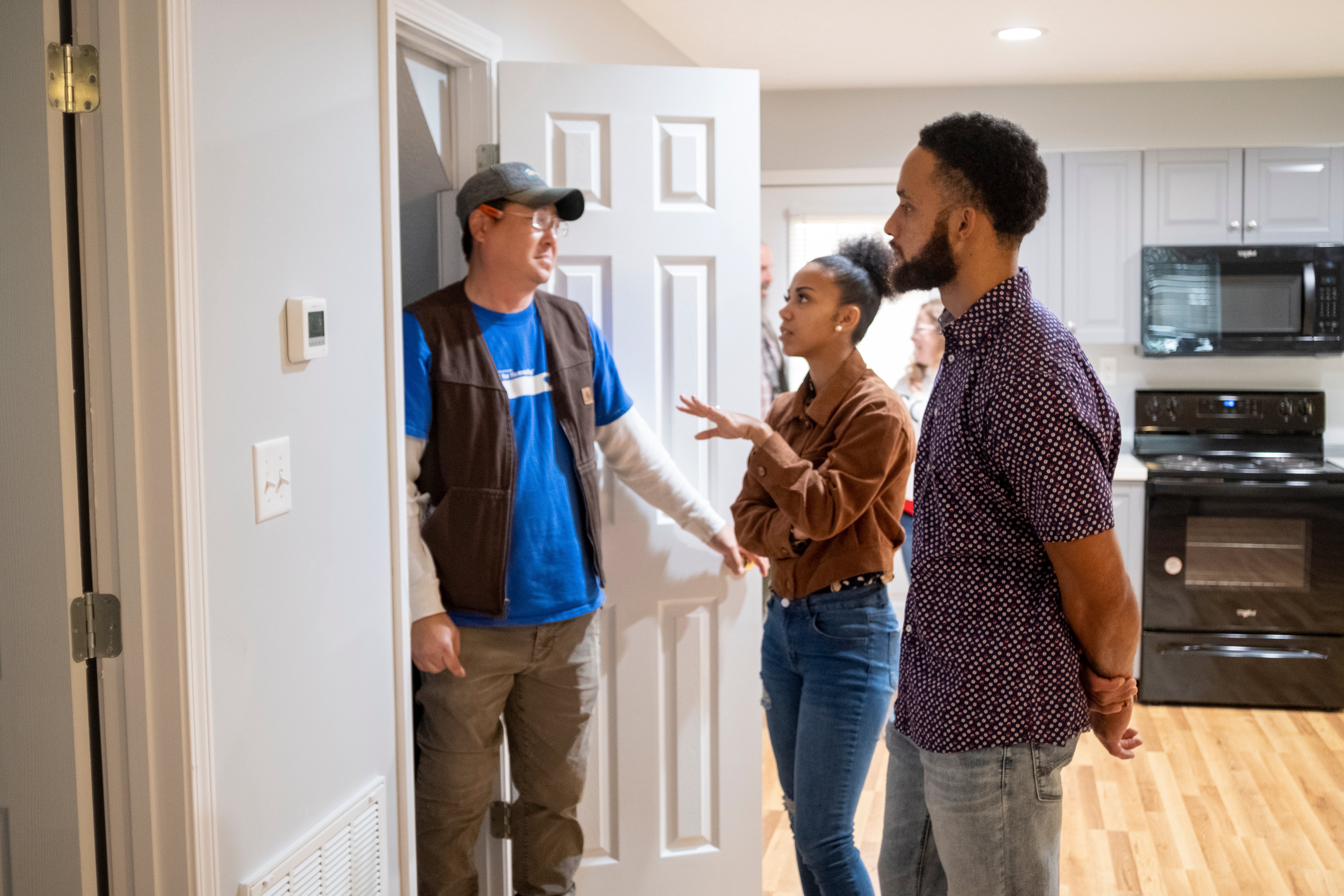 Not all of the families moving into the new Habitat builds lost their home in the tornado, said Rodney Goodman, executive director of the Bowling Green chapter of Habitat for Humanity, but everyone living in the neighborhood—everyone in Bowling Green, in fact—has been affected by it in some way. Emotionally, physically, financially. He recalled a family who was paying $900 a month before the tornado damaged the house they rented. The only place they could find after the storm was $1,700 a month. The landlord just raised the rent to $2,000.
Brent Childers, director of Neighborhood & Community Services in Bowling Green, said this was true across the city. Rents went up instantly after the tornado. Overall, the city lost about 475 units and another 500 were damaged and it didn't have housing stock to lose. Childers said the city grows about 2,500 residents per year, an increase that needs about a thousand new housing units annually to keep up with demand. Now the city is trying to stay on track with new resident housing goals while trying to replace or repair lost housing, a tall if not impossible task. "There's just not enough contractors, plumbers, electricians, materials, supply," he said.
"There's just not enough contractors, plumbers, electricians, materials, supply."
It is widely agreed that the nation is facing a housing crisis pertaining to both rental and for-sale housing. According to Patrick Bowen, president of Bowen National Research (BNR), the problem is three-fold: affordability, availability, and quality. In the for-sale market, Bowen said, rising home prices and rising interest rates have caused some higher income households to step down into the mid-range, taking some of the inventory that would have been available to low- and middle-income households. In the rental market, he added, some people are being forced to choose between substandard housing and a cost-burdened housing situation.
Bowling Green faces the same challenges. Research conducted by BNR before the tornadoes found more than 500 "substandard" rental housing units in the city, 303 of which lacked complete kitchen or bathroom plumbing. In addition, the report said, approximately 45.5% of renters are cost-burdened, which means they pay more than 30% of their income toward rent; and 24% are severely cost-burdened, which means they pay more than 50% of their income toward rent.
Renters are cost-burdened in part because the affordable housing options are taken. BNR's recent survey of housing authorities found a 99.4% occupancy rate for subsidized Low-Income Housing Tax Credit (LIHTC) units and a 98.4% overall, non-subsidized-housing occupancy rate. In addition, the waiting list for a Housing Choice Voucher (HCV) is currently at 690 households.
It is in this housing market that Ashley and her fiancé John found themselves before being accepted into the Habitat home program in Bowling Green. Along with their five kids — the oldest is 15 and the youngest is a newborn — they will move into blitz-build townhouse #6 and out of a substandard housing situation.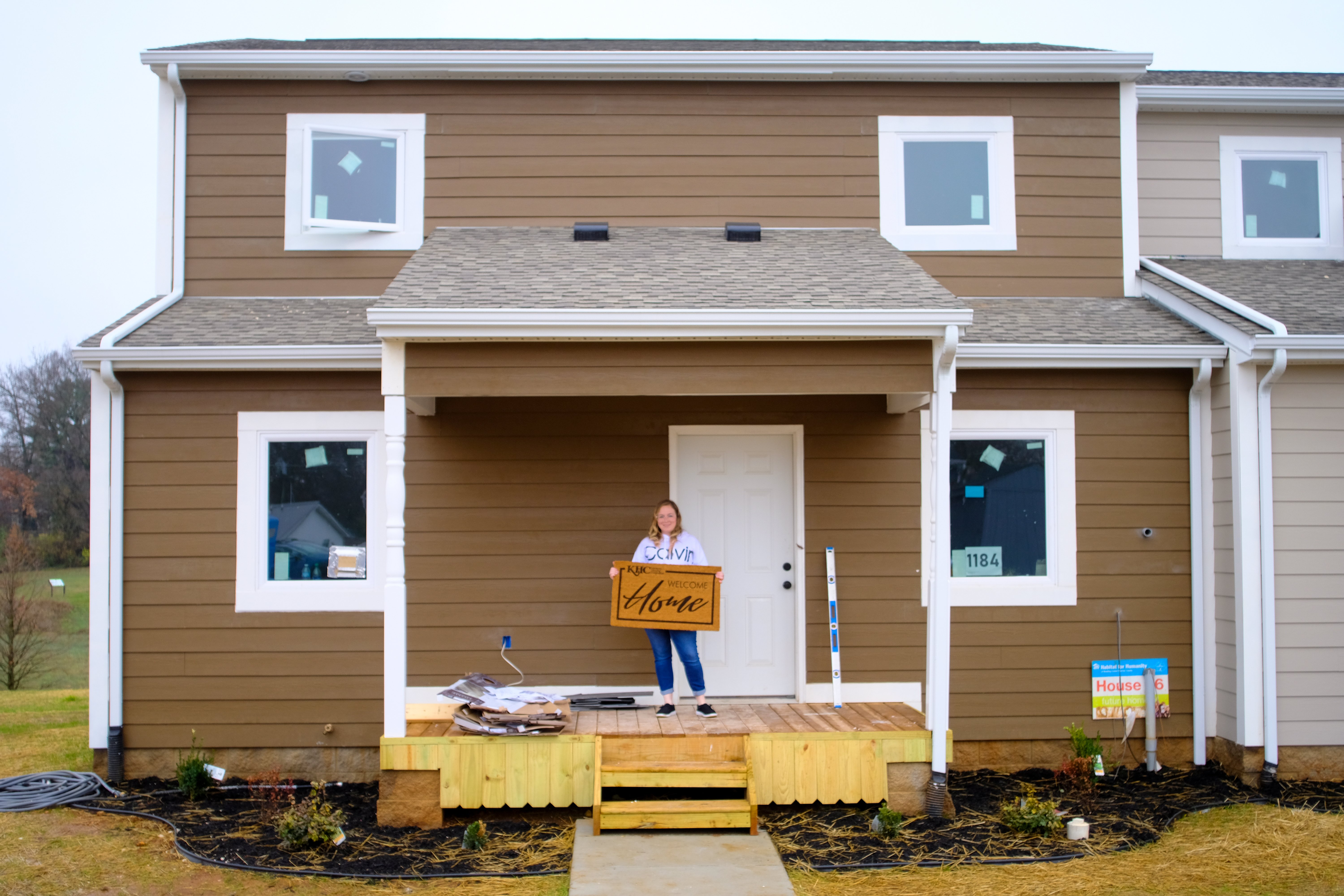 "We weren't necessarily directly affected," she said of the tornado, "but we pay so much rent. When we started looking to get a new place, between COVID and the tornadoes, we realized there was no place to go."
Five years ago, they chose substandard housing over being cost-burdened, a choice they never wanted to have to make again. The result has proved incredibly disheartening. They have to deal with chronically leaky plumbing, rodents, and mold on the bathroom ceiling. They looked for a new home, she said, but all the available houses were impractical for a family of seven or prohibitively expensive. Their Habitat home allows them to avoid making that lose-lose choice again.
Ashley is part of Ready to Work, a program at South Central Community Technical College that was created to assist low-income parents enrolled at one of the Kentucky Community and Technical College System with work study, mentoring, employment training skills, and other benefits. The director of the program, hearing about Ashley's housing woes, recommended Habitat, which had opened a round of applications for the 10 blitz-build townhouses. She remembered being "kind of hopeless" when she applied. "We didn't even expect a call back, let alone to see a brand-new home built," she said.
Every time she walks into her new home, she said, she tears up. This time was no different. At the end of the tour, she took a sweeping look around — sawdust and tile scraps on the floor; cabinets still wrapped in plastic — and smiled.
"This is going to be the nicest place we've ever lived," she said.
"This is going to be the nicest place we've ever lived."
Both she and John had unstable childhoods, she explained, and this house represented a new direction for their young family.
"This is going to be the stability that we never had that also our kids never had that we are going to be able to give to them," she said. And the kids understand just how special it is. "Every day after school, they want to drive by here, they want to see what's done. They're out here looking in the windows, running around the back, looking through the back door. Every day. They're excited."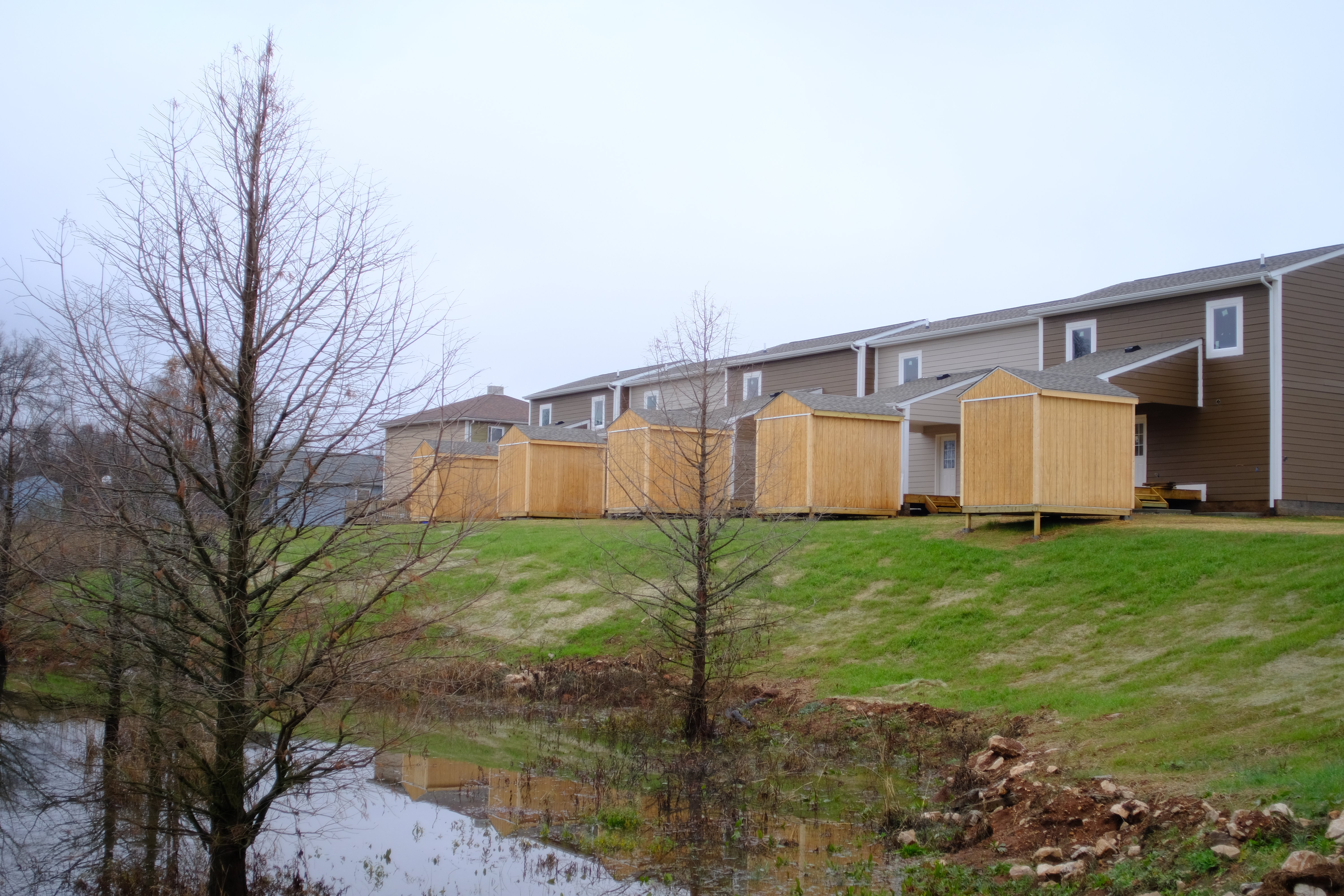 Each family in the Habitat homes program is required to complete 300 "homeowner-in-progress" (HIP) hours, which is known colloquially as sweat equity. Ashley and John have completed about 300. Like Chris and Kaylah, they expect to move into their new home in February.
The 10 blitz-build townhouses are part of a larger neighborhood of Habitat for Humanity houses, some of which were built years ago and some of which will be built in the next decade. When completed, this development on Regis O'Connor Boulevard will include a central building that will serve as both a community center and storm shelter. Goodman said the shelter will be large enough to accommodate every resident in the neighborhood. Should such a storm ever strike Bowling Green again, these families will have protection.
Article and photographs by Steve Morrow
To read about KHC's housing dashboard, an effort to house tornado survivors in western Kentucky, click here.
---